10-Year Treasury Rates and 30-Year Mortgage Rates
Images for this post are temporaraly unavailable.
What Happens to Residential Mortgage Rates When Treasury Rates Rise?
Executive Summary:  For the past 36 years the spread between 10-year Treasury note rates and 30-year residential rates on a monthly basis has averaged 1.7 percent or 170 basis points. The current spread between the two is more than 50 basis points greater than normal.  This would indicate that even if 10-year Treasury rose one-half percent (or 50 basis points) from the current level, residential mortgage rates could conceivably remain stable.  Alternatively, if 10-year Treasury rates remain at or below 3 percent, 30-year residential rates could fall into the 4.5 to 4.7 percent range.  Either way, the potential for residential rates to remain at current levels or decline is positive. 
Just as water and carbon are the building blocks of life, the 10-year Treasury note is the building block for similar duration but greater-risk loan rates.  The 10-year Treasury note is seen as the benchmark for risk-free longer-term borrowing (the U.S. government is deemed risk free since any other loan in the world is more risky).  So goes 10-year Treasury rates, so goes fixed-rate residential borrowing costs. 
Since 1972, monthly 30-year residential interest rates have averaged 1.7 percent or 170 basis points more than the corresponding 10-year Treasury note.
February 2009 residential rates were 226 basis points greater than the comparable 10-year notes.
For the week of March 9, 2009, the spread remained at 225 basis points.
The 10-Year Treasury rate as of March 12, 2009 of 2.89 percent, assuming a 170 basis point spread, would portend a 30-year residential rate of 4.59 percent.  Hence there is potential for treasury rates to increase without increasing residential rates or there is potential, assuming Treasury rates remain at or below 3 percent, for residential rates to fall into the 4 percent range. 
A linear regression model with residential interest rates as a function of 10-year Treasury rates at 3 percent projects 4.48 percent (4.5 percent rounded) 30-year fixed-rate residential loan interest rates.
During recessions since 1972, the spread has averaged 199 basis points compared to 163 basis points in non-recessionary periods.  A second regression which includes the impact of recessions on spreads indicates that the current residential rate should be less than 4.75 percent—again confirming a potential for reductions in the interest rate for residential lending. 
In the past 36 years, there have been only 19 months out of the 446 month total (4.3 percent) in which the spread has been less than 100, just 17 months in which the spread has been greater than 200 basis points (3.8 percent) and only three months in which the spread has exceeded 400 basis points.
The graphs below show 10-year Treasury note and 30-year residential loan interest rates—the first since 1972 and second since 2000.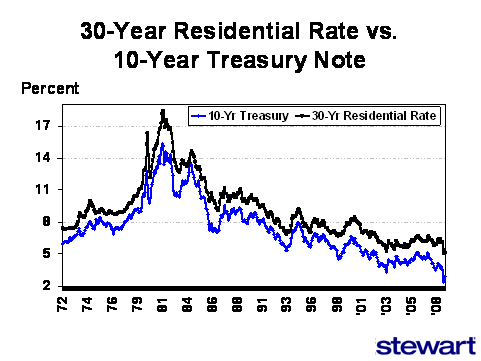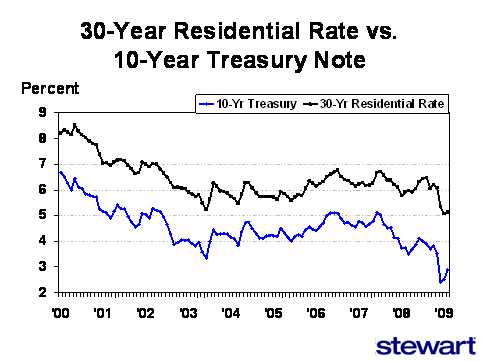 Periods of recession are times of great uncertainty, greater risk, and therefore theoretically times of greater variability.  That is verified in the spread, which averaged 199 basis points in recessionary times versus 163 basis points in non-recessionary periods.  The following graphs show the spread during these periods.  Not all recessions impact the spread equally.  The current recession shows much larger spreads (akin to the recession in 1981-1982) while the recession in 2001 was similar to the recession in 1990-1991.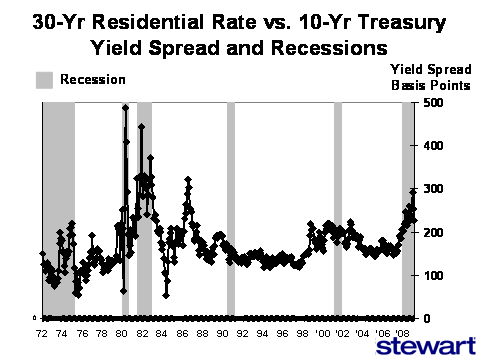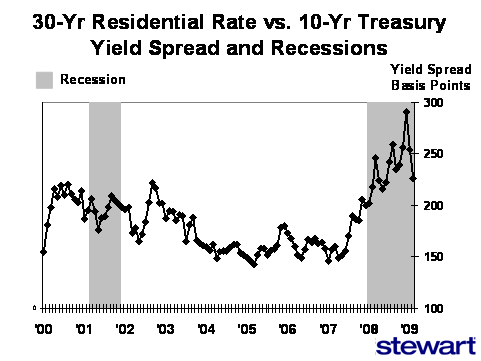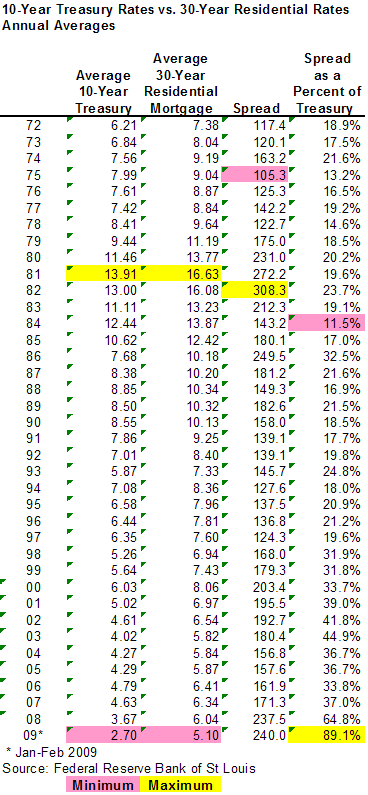 Regression Analysis: Residential Rates as a Function of 10-Year Treasury Rates
The first regression is a simple linear model in which 10-year Treasury rates estimate 30-year residential rates.  The model is statistically significant and yields the following statistics and estimated interest rates when applied.
Model Y = 1.33254157 + 1.05003866 x 10-Year Treasury Rate
Adjusted R Square = 0.96431
F Statistic = 12,025.2
Coefficient      t Statistics    P-Values
Intercept           17.683            < 0.01
Treasury          109.6505         < 0.01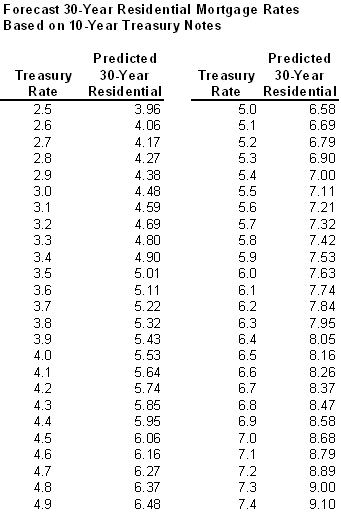 Regression Analysis: Residential Rates as a Function of 10-Year Treasury Rates and Whether There is a Recession
The second regression models 30-year rates (again, a simple linear model) but includes both 10-year Treasury rates and a dummy variable of one when a recession is present and zero when there is no recession. 
Model  30-Year Residential Rates = 1.29751+ 1.04519 x 10-Year Treasury Rate + 0.33387 (when in recession)
Adjusted R Square = 0.96607, F Statistic = 6,441.54
Coefficient      t Statistics    P-Values
Intercept           17.739            < 0.01
Treasury           112.354          < 0.01
Recession            5.614          < 0.01